Offline
DBB Material Defender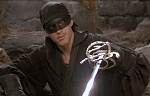 Joined: Tue Nov 23, 2004 3:31 pm
Posts: 4900
Location: Denver, Colorado, USA
The other thing if there's no one else on the trackers, is knowing which games will attract other players. From my experience (times here in North America):

Morning: Try the German servers, specifically Ascent. Those games start picking up around that time.

Afternoon/early evening: Try the secondary-heavy levels (Abend 2, Subway, etc.). Folks there are more interested in wacky fun than hard competition, but it's not hard to get a game started.

Late night: Try the CTF games, specifically Veins. Or try starting a game in a tight primary-heavy level like Vamped or BI3. The late-night games are usually heavy competition, although it takes more work to get one going (e.g. jump on IRC or in a voice server).